BALDACCI
ELIZABETH PINOT NOIR


2017 CARNEROS

Marked with concentrated fruit, intriguing textures, and a palpable sense of place, Baldacci's Carneros Pinot Noir authoritatively expresses many of the region's best attributes. The wine arose from Baldacci's Estate Vineyard in Carneros, farmed by Josh Clark, one of wine country's most sought after viticulturists whose clients include icons like Outpost, Hourglass, and Kinsella, to list a few. At this price, it truly shouldn't be missed.
Michael Baldacci works closely with Ricardo Herrera to craft balanced wines with a sense of place and tangible value. Ricardo gained invaluable experience over the years at icons Stag's Leap Wine Cellars, Dominus, and Screaming Eagle.
The Baldacci team is steadfast in producing wines that tell a story of their origins and vintage. They achieve this through highly skilled vineyard management, top-level winemaking, and timely choices made during each step along the way. The results speak for themselves, and at this price, a single case may not be enough.
BALDACCI
ELIZABETH PINOT NOIR
2017 CARNEROS
Retails at: $50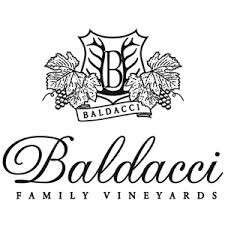 "Our motto is no whimpy Pinot Noir! I approach this varietal as a lighter, yet sturdy red wine from our portfolio. We work towards a balanced fruit load, per vine, in the vineyard. We use our clones to create nuance and texture in the final wine… We strive for a fruit forward expression that is more dark rather than red berry. We de-stem everything and cold soak for no more than 3 days to achieve a color and tannin profile that is more structured. Everything is fermented in open top, small volume tanks with daily punch downs until dry. We use 40% new French oak to marry our fruit with the spice from the wood."